10 Dec

Top 10 Reasons to Remodel Your Kitchen

At New Generation Kitchen & Bath, we understand that undergoing a kitchen remodel can be a huge decision. There's a lot of factors to consider, including budget, timelines, and weighing the benefits versus the costs. If you've been on the fence about whether to give your kitchen a makeover, don't panic. In this month's post, we've outlined 10 great reasons why getting a new kitchen is a must. If any of these match your situation, you should give our team a call and let us help improve your kitchen immediately.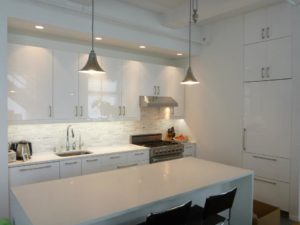 1. Increases the value of your home
Re-doing your kitchen can significantly increase the value of your home, and your chances of someone buying it, especially if it is currently outdated and falling apart. Even simpler updates (like installing new kitchen cabinets or adding an upgraded kitchen countertop) can go a long way toward increasing your home's value.
2. Your kitchen is a mess
It's untidy, and there's nowhere to put things. You start moving things that don't fit to other parts of the house, which creates even more chaos. Consider adding more functional kitchen cabinets, or even possibly installing an island. It'll help you free up more space and make the space you do have more useful.
3. You can't stand being in it
Almost everything in your kitchen is old, and not too stylish. A modern makeover would help you love your kitchen again. Pick something that is a middle ground between trendy and timeless – such as all-white cabinets or subway tile for your back splash.
4. No space
If your family is constantly squeezing past and bumping into each other, it is time to expand. The National Kitchen and Bath Association recommends that the width of a walkway in a kitchen be at least 36 inches wide, your work space aisle should be at least 42 inches if just one of you will be cooking and 48 inches if there's two of you. If your kitchen walkway is too narrow or cluttered, a renovation will help make it roomier and more spacious.
5. Energy efficient/good for environment
Using old-fashioned appliances can be a waste of money. Even a simple fix like adding a skylight could help save hundreds on your energy bill. Some things are simply outdated, and making small modifications can make a huge difference in your energy consumption.
6. Changing lifestyle
Your needs are different from the last owner's. Perhaps they didn't have a large family, as opposed to your five kids. Maybe they didn't have a dog either. Or, maybe your own lifestyle has changed since you first bought the house. Whether you're hosting more often, feeding more people, or just want to enjoy a different level of luxury, a kitchen upgrade is a great way to make your home match your lifestyle.
7. Special needs/accessibility
If anyone in the house is special needs, a new kitchen can accommodate them without a hassle. Many older models are not cognizant of accessibility. Making modifications to your kitchen, among other steps, can make your home more accessible and convenient for everyone.
8. Broken, ugly, or inefficient cabinets
Some cabinets and features (such as a Lazy Susan) lose functionality with age. Sometimes, they simply don't look nice. Upgrading to a sleek, modern look is exactly what you need to give your kitchen a new feel. Try something contemporary, that also will stay relevant for years to come, like frameless cabinets.
9. Bad flow
This ties in with having no space. Does it feel like your kitchen is inefficient to cook in? Is the dishwasher too far away from the sink? Are there not enough countertops by the cooking area? Bad flow can increase your stress and waste time while cooking. Upgrade to a new, well-planned out kitchen with updated appliances.
10. The countertops are scratched, stained, and/or cracked
Nothing ruins a great kitchen like stained, damaged countertops. Instead, go for brand new quartz or marble countertops! Many of our options are quite beautiful, and you don't have to break the bank to do it, either.
If you have any of these issues in your home, it's time to call the San Antonio kitchen remodeling experts at New Generation Kitchen & Bath. Our team will offer a free quote and consultation, and can help you design your custom kitchen to fit your exact needs. Our sparkling ratings on Google reflect the level of quality we put into every project, and we work to keep costs to an absolute minimum. Let our team wow you with our service. Contact us today to get started!